Single stage oil-free screw compressor
Pressure range : 1.5 bar<p< 3.5 bar
FAD 8-150 m³/min
Energy saving design
The oil-free screw air end is specially designed for low pressure applications. Different pressure ratios are designed for different exhaust pressures to avoid over compression.
Environmental protection and maintenance concepts
Single stage dry compression can effectively control the size of the whole machine, the advanced design concept gives it a fashionable appearance and compact internal structure, low noise, super purification, small footprint, easy to maintain.
High efficiency oil free compressor air end
Advanced processing technology ensures high efficiency and stability of the air end

Forged steel rotor has high strength and less expansion

It is suitable for oil - and water-cooled jacket cooling

It is allowed to be used at 45℃
Optimized bearing structure design
One pair of radial bearings and one pair of axial bearings are used for both male and female rotors

High quality bearings meet the requirements of 20,000-30,000 RPM

Robust bearing positioning ensures optimum rotor clearance

SKF bearings ensure the high efficiency and long service life of the air end
Top quality seal ensures no oil
Air seal adopts stainless steel floating ring, small clearance, no friction, low gas consumption

The inlet is designed to resist negative pressure, which further reduces the loss of compressed air

The oil seal adopts nickel-plated alloy reverse floating ring design, no friction, small clearance, to ensure no leakage
Food grade quality requirements
All stainless steel piping

Food grade high temperature and corrosion resistant coatings meet the requirements of various industries

The rotor and inner wall of two-stage compression are coated

Strict factory test
Series parameters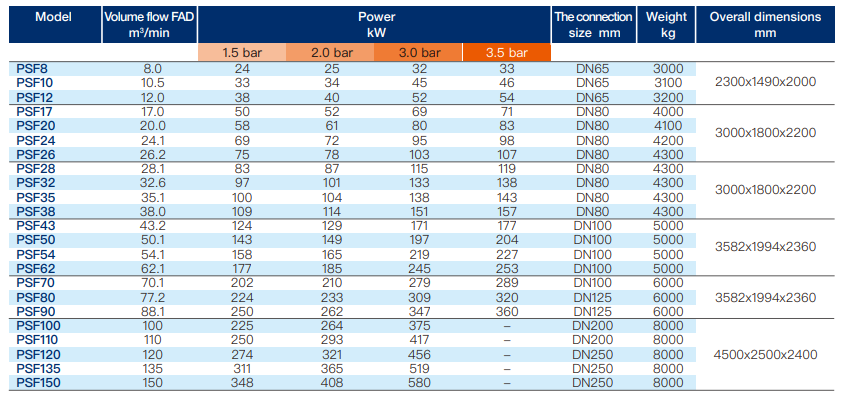 Note:
1.The above parameters are based on the inlet conditions at pressure 1.0Bar(A), temperature 20℃ and relative humidity 0%, tested according to ISO 1217 4th Edition Annex E standard.
2.The data in the table is applicable to 50Hz power supply. Please contact us for the parameters of 60Hz power supply.
3.PurAir products continue to improve, please request the latest data sheet.